From 18th November to 23rd December 2022
DISCOVER ONE OF EUROPE'S MOST BEAUTIFUL CHRISTMAS FAIRS IN BEAUTIFUL OLD GDAŃSK!
Lucky the Talking Moose, Angel Mill, Carousel with Horses, Advent Gate, elf parades, objects with soul and Christmas delicacies. Situated in the historical centre of Gdańsk, the Christmas Fair is like a fairy tale. It captivates both visitors and locals who are the most happy to spend their winter time here.
The remarkable ambience of the Gdańsk Christmas Fair is mostly created by the unique and mood-setting scenery. Here you will find streets marked out only for this special time of year: Chocolate, Cinnamon, Angel or Christmas Eve Street. There is Lucky the Moose, who hums and speaks. High above, the Three Wise Men, angels and saints look at you from Angel Mill. There are elves, the Snow Queen with her retinue and singing carollers. You can take a spin on a fabulous fairy-tale carousel or find a moment of solace at the Holy Family Shrine. Couples in love have their own gleaming corner under the mistletoe.
Advent Gate, honey, ginger and oranges
Each year, the Christmas Fair scenery is enriched to include new components. This year, for the first time ever, you will see a 5-metre-tall gate shaped like an Advent candle bridge, with a viewing point on top. The Gate also features a Christmas surprise: it is decorated with Gdańsk's largest Advent Calendar. A new window will be opened every day in a new Christmas Fair tradition.
The Square of Good Wishes is the heart of the Christmas Fair, surrounded by brightly lit, Christmas-decorated wooden cottages filled with delicacies from various corners of the world. There is plenty to choose from: Alsatian pancakes, Hungarian kürtősh, Greek bougatsa, Crimean chebureki, Spanish churros, Austrian cheese, Lithuanian sausage, Turkish halva, Polish pierogi and traditional Gdańsk wafers. To warm you up, there is hot chocolate, mulled beer with honey and ginger, cider with a touch of rum and, of course, aromatic mulled wine served in collector's mugs—each year in a different design and colour.
Angels, sculpted saint statues and rocking horses
The Christmas Fair is also the perfect place if you are looking for inspiring gift ideas. If you value the beauty of artistic handicraft, you will be captivated by folk nativity scenes, sculpted saint statues, angels, wooden toys and soft cotton toys. If you are a fan of modern design, you will appreciate original jewellery and ceramics, hand-painted scarves and upcycled items: bow ties (from reclaimed wood) or woollen knitwear and woolly hats made from reclaimed material.
Santa takes centre stage
From 6 December, Santa, who sits on his throne and treats children to sweets, naturally becomes the star of the show. To commemorate such a remarkable meeting, you will receive a postcard with a dedication: Do not lose your faith in me, big or small though you may be! Kids can also take part in creative workshops to make Christmas decorations, angels and centrepieces.
Helping is beautiful!
The Gdańsk Christmas Fair has its own special charity campaign for the Hospice Foundation and a collection to save St Nicholas Basilica threatened with structural collapse. Helping is easy at the Fair: just put your donation in a collection box or visit the Foundation's stand because here any donation will make it possible for you to become the owner of an amazing angel made by the students participating in the Angels Play for the Hospice art competition.
In such surroundings, to the sound of carols, you cannot help but feel the togetherness and warmth of the approaching Christmas.
CHRISTMAS FAIR / HIGHLIGHTS
•  OPEN UP HERE—Advent Gate with Calendar
•  TAKE A SPIN HERE—Carousel with Horses
•  THE SAINTS ARE HERE—Angel Mill with moving figures
•  LUCKY THE MOOSE IS HERE—Look! He speaks
• IT'S LIKE A FAIRY TALE HERE—Christmas Parades
• SANTA'S THRONE, SANTA'S HOME—Look for Santa—once here, once there
• HAVE SOME FUN HERE—Art workshops for kids
• IT'S KISSY-KISSY HERE—Mistletoe Haven
• GET IN THE MOOD HERE—Shrine Grove
• LET'S MEET HERE—Have some mulled wine
• IT'S YUMMY HERE—F&B Zone
AND LET US ALL ENJOY CHRISTMAS, HO, HO, HO!

Hotels & Apartments
in Gdansk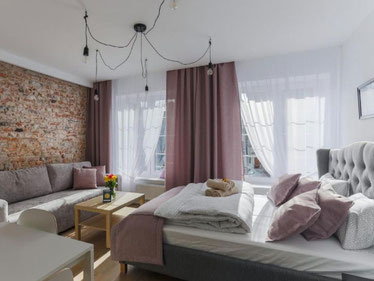 Central Apartments Piwna 
The Christmas market is 300m away
This property has an excellent location score of 9.8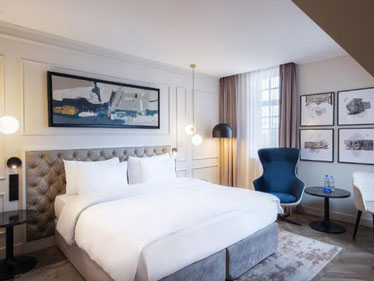 Radisson Blu Hotel ★★★★

★
The Christmas market is 700m away
Stunning city views and stylishly designed rooms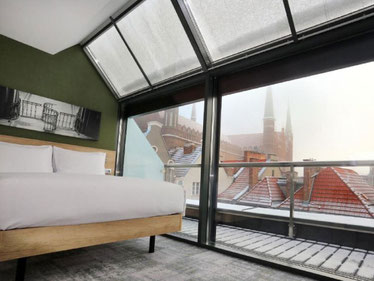 Hampton By Hilton ★

★★
The Christmas market is 300m away
Perfect location and comfortable bed

Tours & Activities
in Gdansk

Christmas in Gdansk
image gallery

Christmas in Gdansk
Video

Best in Europe.
For an enchanted Christmas in Europe