From 1st December to 21st December 2022
During Advent, Franziskanerplatz is transformed into a town in miniature crammed with gaily decorated stalls resembling little timber houses. Located in the heart of Lucerne's Old Town, the Christmas Market creates a highly evocative seasonal atmosphere.
Drawing visitors from near and far, the 70 or so festively decorated stalls offer a host of wares and special gift items. While the grown-ups savour a wealth of food and drink offerings, the children make a beeline for the Christmas carousel to the appropriately seasonal music of brass ensembles and choirs. The air is laden with the spicy fragrance of punch and mulled wine. The festive ambience invites visitors to stroll, browse and linger.

Best hotel deals
for Christmas in Lucerne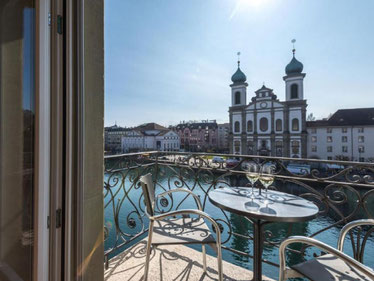 Hotel des Balances 
★★★★
The Christmas market is 100m away
A picturesque location on the Reuss river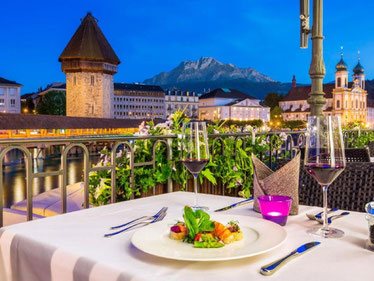 Hotel Des Alpes 
★★★
The Christmas market is 400m away
This hotel has an excellent location score of 9.8

Tours & Activities
in Lucerne

Christmas in Lucerne
image gallery

Top things to do
for Christmas in Lucerne
Live on Ice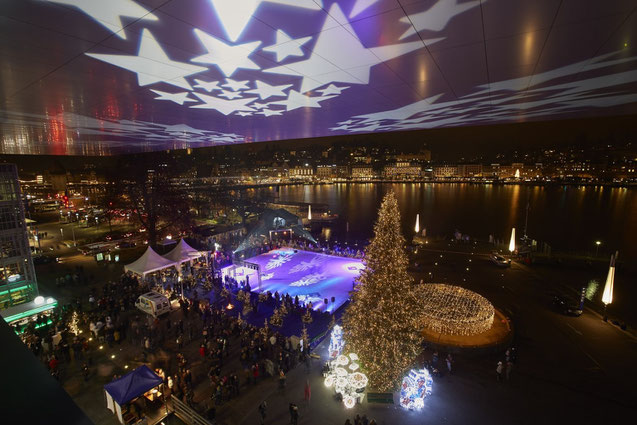 Internationally acclaimed light artist Gerry Hofstetter creates a Christmas and winter mood at the heart of the city of Lucerne again this year. The ice rink in front of the KKL Luzern will be bathed in Christmas lights from 26 November, putting young and old alike in the Christmas spirit.

"Pine boughs and bright lights" City Tour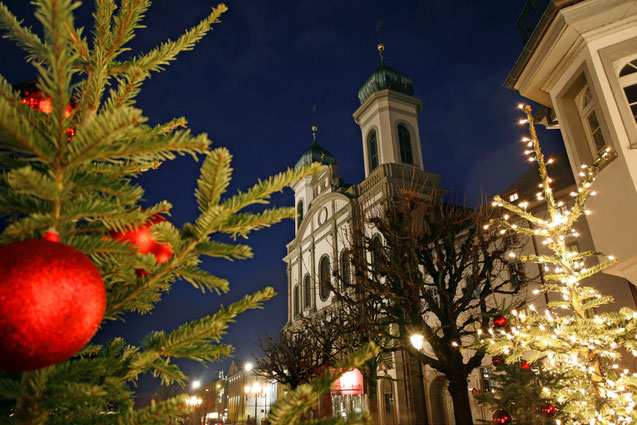 Stroll through Lucerne with us as we help shorten the wait until Christmas. We reveal the secrets surrounding the Christ Child and Father Christmas, how pine trees found their way into our living rooms, and since when illuminations have adorned our streets and squares. You will hear seasonal and humorous stories featuring Lucerne's Christmas traditions in December and visit the life-size crib.

Events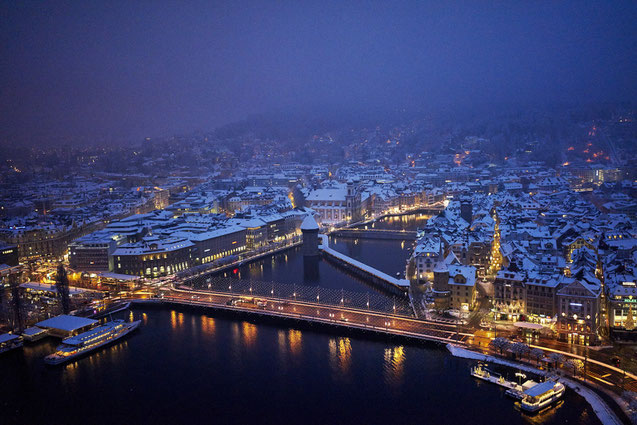 In Advent the Lucerne-Lake Lucerne region presents unforgettable events and a real sense of Christmas atmosphere. Enjoy anticipation with traditional Christmas events such as the Samichlausauszug (Father Christmas Procession), Klausjagen (Nicholas Chase), Sternsingen (Christmas Carolling) or atmospheric festive cruises on the lake.


Best in Europe.
For an enchanted Christmas in Europe